Previous
Next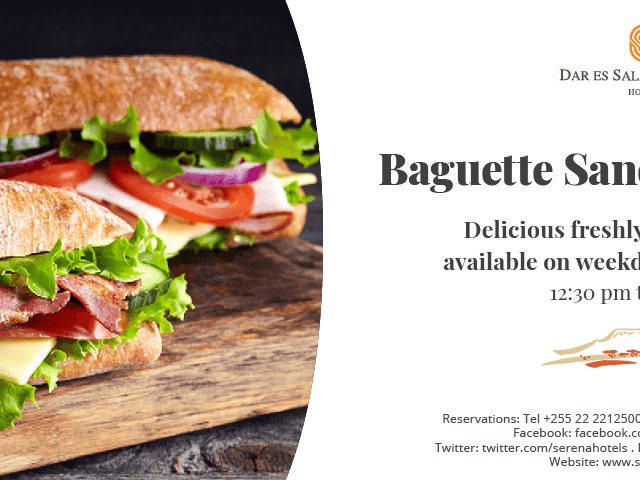 Baguette Sandwich Station
Delicious freshly baked baguettes available on weekdays at the Kibo Bar at Dar es Salaam Serena Hotel
Time: 12:30pm - 3:00pm
Ideal hotel for a stopover
Arrived from England to find our travel agent rep was not there to greet us. We went to customer services who rang the hotel. The hotel receptionist was very helpful. Once our booking was confirmed she arranged for a local taxi driver who was there within 5 minutes to take us to the hotel. Due to our inconvenience not caused by the hotel they upgraded us to the 7th floor executive room. We did not have to pay for the taxi, the hotel were reimbursed by our travel agent. The food and staff were fantastic. A perfect place to stay before embarking on our 6 day safari.
blessedblue, manchester,
blessedblue
manchester,
16 Mar, 2020
Excellent location. Comfortable and spacious room. Nice breakfast with variety. Restaurant menu also great. Lobster Thermidor is must! Small gym but with all you need. Spa sauna and massage quite professional. All you need when in a business trip.
mendoncapedro, Geneva, Switzerland,
mendoncapedro
Geneva, Switzerland,
07 Dec, 2019
Very helpful and professional staff at all levels. Our Std room was large and quite comfortable. Shower over a bath with a shower curtain though. The room air con struggles with the Dec heat and humidity and the room thermostat settings made no difference to dropping the 24 C room temp. The evening buffet dinner, breakfast and lunch were all exceptional. We came back to this hotel for lunch after being away for 3 nights on safari and then had to wait for some time before we could board our Noble Caledonia (NC) ship.
KeenPhotographer-11, Brisbane, Australia,
KeenPhotographer-11
Brisbane, Australia,
09 Jan, 2020