Previous
Next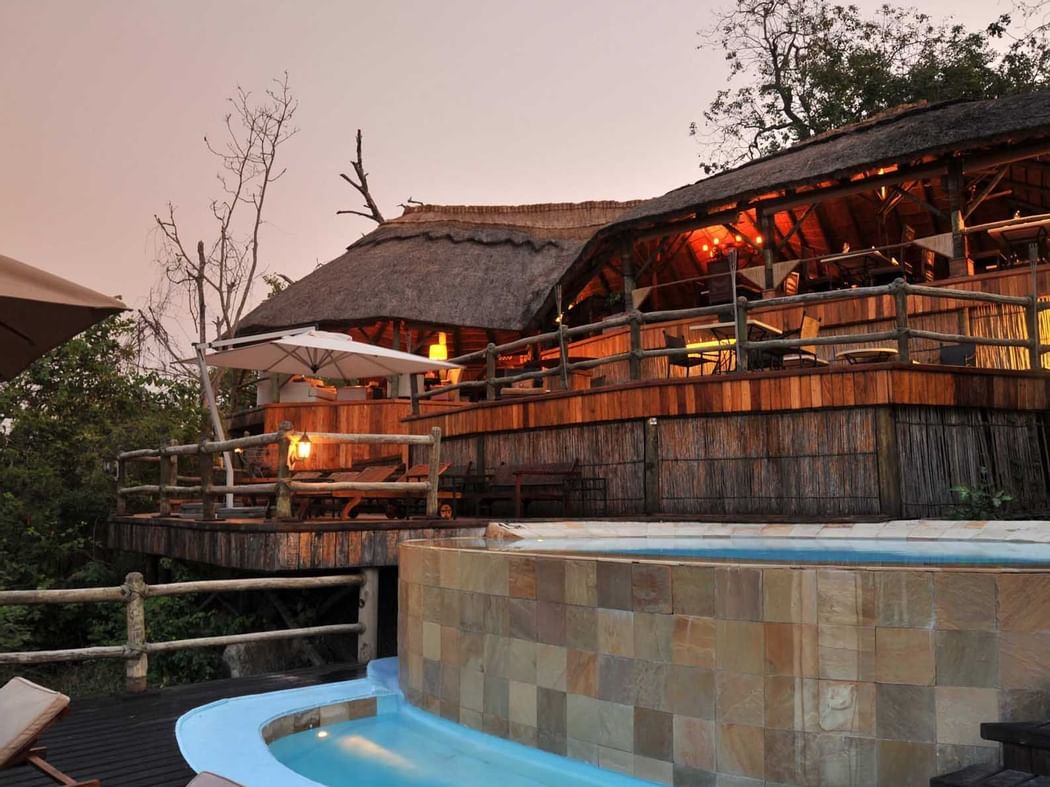 ALL INCLUSIVE OFFER
Offer includes:
All government taxes,
Stieglers airstrip transfers to and from the lodge,
Full board accommodation on a per person sharing basis,
Guided game walks, game drives, boat excursions & sun downer outings, teas & coffees, soft drinks, selection of fine wines, beers, spirits and laundry.
Excludes park fees and flights to Selous Game Reserve.
From the moment we arrived, to the moment we left, our every need was catered to. Staff were friendly and knowledgeable, kind and sincere. If you are looking for a destination that feels like a honeymoon, this is the place!
Amazing location with the rooms overlooking the river and surrounded by the sights and sounds of nature.

The rooms are full of character and things work well and really spacious. No TV! Great!

The bar and restaurant area are well laid out and the views are stunning. Food was really good with plenty of choice and the service was calm and efficient just perfect.

We did a day safari by jeep and a morning river cruise. Both were led by brilliant informative guides who were a pleasure to spend time with. We saw everything we expected and the off road driving was great fun.
A brilliant experience in every respect made special by wonderful staff , impossible to fault.
Mike D, Taunton, United Kingdom
Mike D
Taunton, United Kingdom
04 Jan, 2023
Stunning location with a personal service!
An amazing experience! My husband and I spent 4 days at this lodge mid September and had a fantastic time! The accommodation was superb and the restaurant 5 star! The staff went above and beyond and made our trip so memorable!
From the minute we were collected from the air strip on the journey to the lodge our driver/guide, Ebo, pointed out so many animals - we saw zebra, giraffe, buffalo and impala. He was so informative and made the journey, after a very early start, such an impact and introduction to the start of our safari! After an amazing top notch lunch (as good as any fine restaurants) we went on a river cruise where we dodged hippos and saw a herd of buffalo coming to the river for a drink, we came across a group of 3 lions. We were also close to many crocs! Again our guide Zac was so informative and made the trip unforgettable.

Ebo was amazing on each of the next three days we were out, seeking out all the places we could see elephants - our main aim - and succeeded on day 3, liaising with other guides via radio for location info. His knowledge was second to none!

As well as the safaris the experience of staying at the lodge was so special. Each member of staff made our stay so memorable - from Shabani who was there to welcome us with ice cold towels to cool us down after safaris and who looked after our room, Jacob and his team who always provided an amazing service in the restaurant, Mohammad who safely guided us from our room to the restaurant (and return) in case of any unexpected animal guests joining us, and Alex who was always on hand to check our stay was going well and to answer any questions we had.
In all, it was an amazing stay and I would recommend this Lodge to everyone. Being within the Nyerere reserve you do not have competition with several other vehicles for the best view. We were mainly the only jeep out and about for miles and had spectacular views. The lodge itself also has spectacular views of the Rufiji River and we awoke to the sounds of hippos as the sun rose.
On the days we got back to the lodge mid afternoon after our safaris, we had a couple of drinks in the bar, watching the wildlife, then had a dip in our own plunge pool, such a relaxing time.
In all, we would book this lodge again in a heartbeat! Thanks to everyone who made our holiday such a special experience!
Kaz37Cambridge, Ely, United Kingdom
Kaz37Cambridge
Ely, United Kingdom
12 Oct, 2022