Previous
Next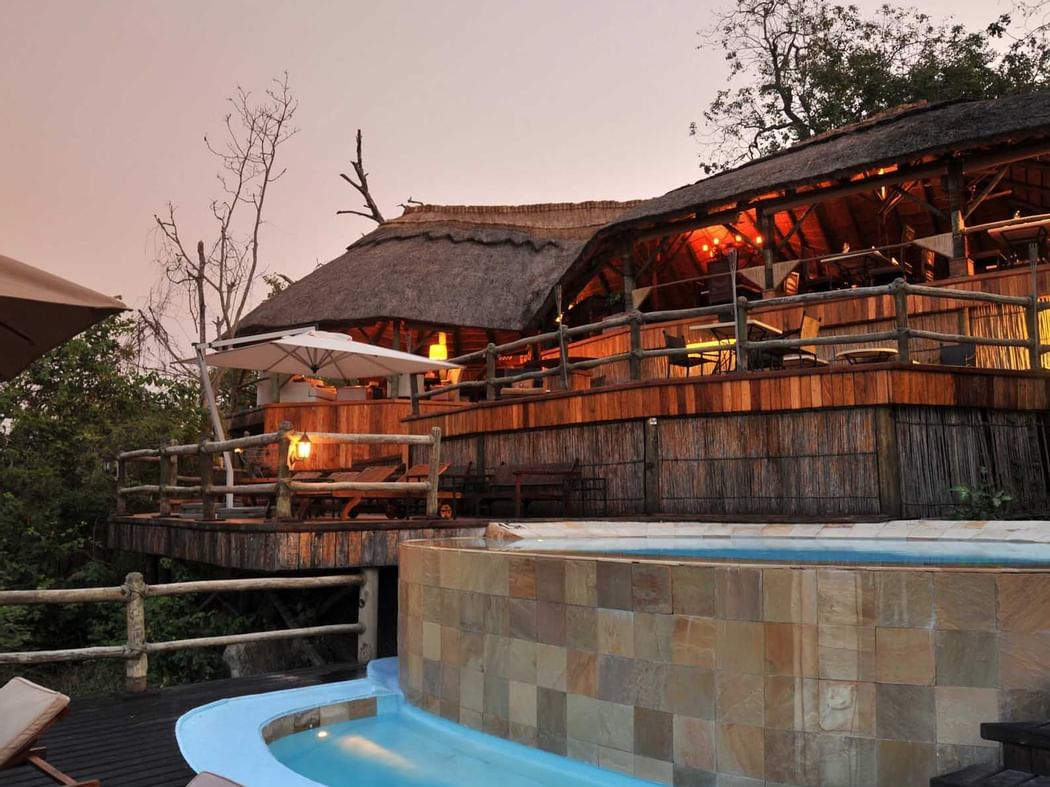 ALL INCLUSIVE OFFER
Offer includes:
All government taxes,
Stieglers airstrip transfers to and from the lodge,
Full board accommodation on a per person sharing basis,
Guided game walks, game drives, boat excursions & sun downer outings, teas & coffees, soft drinks, selection of fine wines, beers, spirits and laundry.
Excludes park fees and flights to Selous Game Reserve.
Beautiful location and fantastic staff
My husband and I stayed here for 3 nights and loved every second!
We arrived at the airstrip in the morning and went straight on a game drive with the amazing Abel! We saw lots of animals including a leopard! Abel was very knowledgeable and had lots of interesting facts about the animals. The following day we had a river safari with Zack who was also fantastic and very knowledgeable. We then enjoyed a sunset safari and another all day game drive.
There was a choice of food for breakfast, lunch and dinner and the food was very good.
For me, the thing that really makes this hotel is the staff. From the waiters, to room staff to safari guides everyone is so friendly and professional. Would highly recommend staying here.
Charlottelouisa25, Cambridge, United Kingdom
Charlottelouisa25
Cambridge, United Kingdom
Just the best experience - ever!
Where do I start - other than just WOW!!!!!

On arrival at Steigler's Gorge Airstrip things got a little confusing as Francis, who turned out to be the best guide ever, told us that we would be staying at Serena Mivumo River Lodge instead of the Serena Selous Camp where we had booked. On arrival at the Lodge, we were greeted by Alex who explained further that we had been given a complimentary upgrade as it was my birthday, he said he was sure we'd be extra happy here but if we weren't he would personally drive us to the Selous Camp. We were shown to our lodge and our mouths just dropped. What a superb set up, a real taste of luxury in what only can be described as the middle of no where on the Rifiji River.

The lodge was huge! With a comfy bed, seating area, indoor victorian style bath, two sinks and then you step out on to the balcony and see the view and hear the hippos. We immediately knew we'd be happy here. Showering outside was an experienced I will never forget.

We were straight out on our first game drive with Francis and over the next four days treated to sights we've only ever seen on the telly. The 4X4s are old but cope well. The river cruise from the lodge was a super change to the bumpy roads, the animals were on form and our cameras have never been used so much.

Back at the lodge we were treated to 5 star a la carte meals throughout our stay with 5 star service from every member of staff. On my birthday they arranged a special candlelit dinner where the whole team sang to me, delivered a cake with champagne and helped me celebrate like never before. The following night I secretly arranged the same set up where I proposed to my girlfriend and she said "yes". I couldn't think of a better place to propose, of a better place to enjoy a real safari away from the crowds, a better place to enjoy nature or a better place to meet such amazing & friendly people.

Thanks you to everyone at Serena Mivumo River Lodge and Serena Hotel for making my 40th birthday and engagement the best ever! We will return (maybe even for the wedding). Special shout out the Alex and to Francis our Guide.

Ps. The reason I gave four stars for sleep quality wasn't the lodge or bed, it wasn't the hippos waking us up at 4am... it was for the bush babies who live under & around the lodge in the day and sit on the roof at night. For me it was funny, for me new fiance, it was loud! haha.
dancfrench, Stroud, United Kingdom
dancfrench
Stroud, United Kingdom
Amazing safari experience
We stayed there for four days and had an amazing experience on the rafigi River very nice premium authentic hotel the rooms are very spacious with ac a big bathtub and an outdoor jacuzzi overlooking the rifiji where u can see hippos in the morning
khaled k, Alexandria, Egypt
khaled k
Alexandria, Egypt
Stunning Riverside Resort in the most amazing location
My wife and I spent three nights in a private riverside lodge, whilst on Safari in the Selous Game Reserve. The accommodation was excellent and the views from the resort out over the Rufiji River was amazing. The location was so peaceful and relaxing, all that could be heard was the occasional cry of an hippo seen bathing in the river. All the staff at the resort were friendly, polite, helpful and professional and the food was excellent. We were treated to our very own exclusive guide called Simon, who drove us around the reserve. He was such a polite, helpful and professional member of the team and his 4 x 4 driving skills and knowledge of the bush was second to none. He helped make our safari such a memorable experience. I would highly recommend this resort to anyone thinking of a Safari holiday with that extra bit of luxury.
Steve T, Hemingfield, United Kingdom
Steve T
Hemingfield, United Kingdom