Previous
Next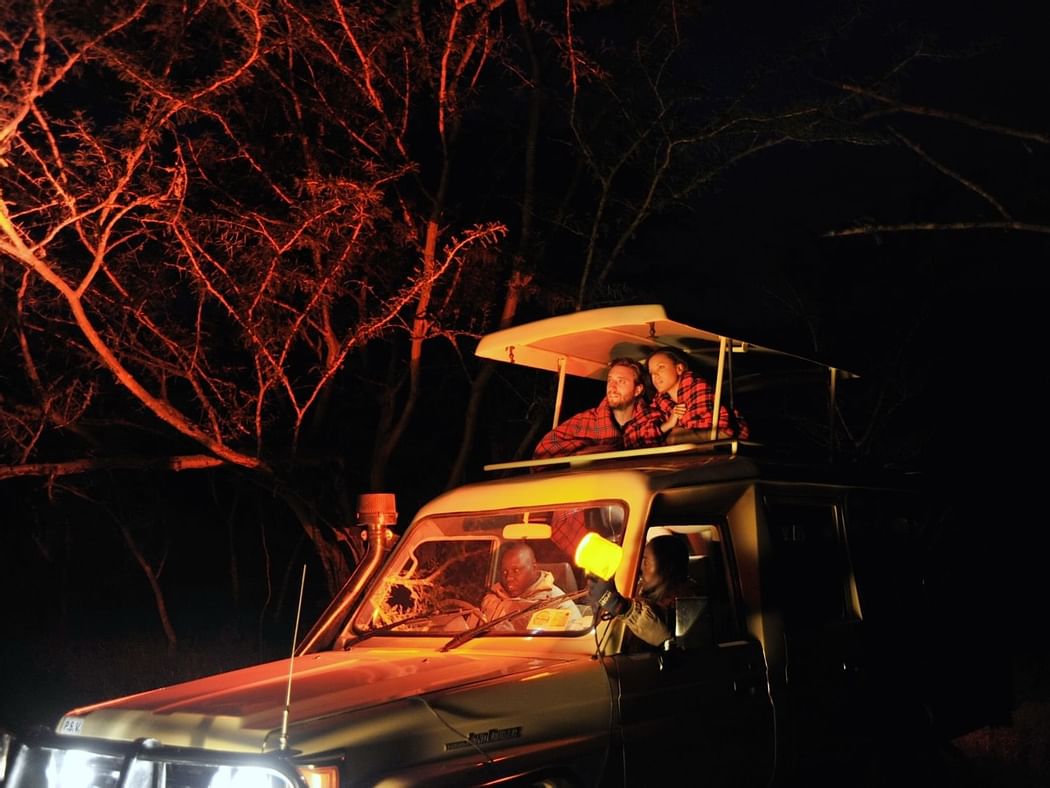 NIGHT GAME DRIVE
Ol Pejeta Conservancy's private status it is able to offer night game drives, an activity not available in most national parks and reserves in Kenya. A night game drive offers visitors an opportunity to discover Ol Pejeta Conservancy 'after hours'.
Available daily between 7:00pm – 9:00pm and 9:00pm – 11:00pm.
Price: $95 per person per game drive
I can't say enough great things about our experience here. Don't hesitate, don't weigh pros and cons, JUST GO. If you have the chance to stay here at all....DO IT! We had an amazing time here. Do the nighttime safari offered through the hotel, and "adopt a rhino" if you can. The tents were amazing. Great local cuisine. Fantastic nonintrusive staff. I am so happy a friend insisted I try out this gem. I don't care for the chain hotels/tours and travels especially when they are foreign owned, but......try this one, just once.
Cynthia J,
Cynthia J
24 Jan, 2023
Outstanding in every respect
This time we spent four nights here, and still not long enough! The water hole is amazing, almost non-stop wildlife visiting it. The tents/rooms have everything you need, and are extremely well equipped and comfortable. The food is really good - huge variety of choices - something for everyone. The staff are excellent - efficient, friendly and hard working. Would recommend some of the options - Lion Tracking or Night Time Game Drive - both worth doing.
Ol Pejeta Conservancy is a world class safari venue, and is also a leading light worldwide in wildlife conservation.
Peter S, Northallerton, United Kingdom
Peter S
Northallerton, United Kingdom
05 Jan, 2023
Nice camp/lodge in a fantastic conservancy
This is my second visit to Sweetwaters and it is a nice camp/lodge inside a great private conservancy.

Ol Pejeta itself has a lot to offer. You will see rhino here. The conservancy also has cheetah, lions, elephant and all the other animals that are coveted by safari goers. Being a private conservancy, there are fewer vehicles and crowds which is a real advantage. Sweetwaters itself is located in a good area of the park. You don't have to drive far to find plenty of game.

The camp/lodge is nice. While technically a tented camp, it is a large property with a hundred or so tents so no one staying here should think of it like you would think of most tented camps (small and exclusive). Still, the property is very nice and well maintained. All the tents are situated around a waterhole and there is animal activity here, night and day.

The tents themselves are extremely nice and spacious. In fact, it is hard to imagine having tents that are nicer. Comfortable beds and linens too. Wifi inside the tents. A private sitting area outside each tent. A large bathroom with double sinks and vanity. There are different levels of tents depending on your budget but all of the tents are quite nice and well situated on the property.

The common areas are small given the size of this property and the restaurant is fairly crowded and congested. Everything is done buffet style and the food is OK but nothing special. They do have a stir fry and pasta station at lunch and dinner and I usually stuck to this because the regular buffet was not that great but was OK. While the food from the stir fry and pasta station was good, it is chaotic and crowded. Serena could and should do a better job of setting up a line. When you approach the station, its not clear what the drill is on ordering or even where the line begins. As a result, people just crowd around and inadvertently cut the line because there really is no line. Serena should really put up an "enter here", "exit only" and something explaining how to order. No one really knows and it is creates a bit of chaotic mess around the stir fry/pasta station that could be easily remedied.

Overall, a nice camp/lodge that I would return to.
adventurel0ver, Columbia,
adventurel0ver
Columbia,
23 Nov, 2022